This is one of those weeks where I have appointments and activities scheduled all day and evening, every day of this week. My saving grace is that I will be able to get away next week with my sweet husband for a long weekend!
As a working mom to a blended family of eight children, you can imagine how CRAZY my schedule is. I have tried many different calendar types to try and keep track of everyone's schedule, and while some are a lot prettier than others, I continue to come back to my old reliable....here are some of my past attempts:
Lilly Pulitzer Agenda
I have the extra large size and while I LOVE it, it is far too bulky for me to carry around,everywhere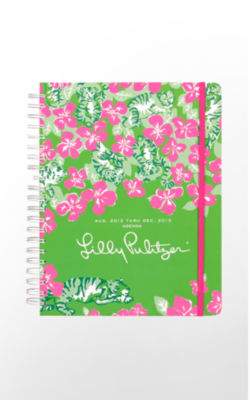 Mom Agenda
This is a lovely leather bound agenda but has many things that annoyed me, mainly that you can't open it flat on a table or desk..it is more like a book. I need to be able to open it up and lay in on my desk while I schedule things. Clearly if you are not a mom, you would not select this one!
Wall Calendar
This used to be my every day calendar until 3A & 3B (my twin boys) were born. At that point I started to have far too many appointments and meetings to fit into one small square. I do like being able to look at the entire month at a time on one page.
Dry Erase Wall Calendar
This idea lasted for about a month and then it got out of control with everyone in the house having access to change things. Things were erased on accident, things were not erased that were changed or canceled...you get the picture. It was great in theory, but not for my family.
Google Calendar
This is my current calendar set up and I think it always will be. D and I each have our own calendars and we share them with each other so both of our appointments show up on each of our individual calendars. In addition, the kids can have access to look at the calendars, but they cannot add, change, or delete anything from them. I can access this calendar from my laptop, ipad, or iphone, which means that I always have my calendar with me. I don't like the desktop graphics on this calendar, but I love the way the calendar looks and works on my ipad and iphone, and that is where I access my calendar the most.
google calendar can be set up through google.com
Of course I have a Lilly Pulitzer ipad case and sleeve as well as an iphone cover so I guess you could say I still have Lilly calendar's!
What calendar system do you use?