Well....I finally selected a green....
Benjamin Moore's "Scenic View"
And here is the finished product....
I am happy with how it turned out.
Here is a reminder of what I started with...
You know how you start a project and something always
"pops up"
that causes complications in your plans?
Here is mine...
My Virginia Dad took the old light fixtures down so I could paint above the mirror,
and there are two holes almost the size of a dime on either side of where the fixtures mount.
Here is the light fixture I had selected...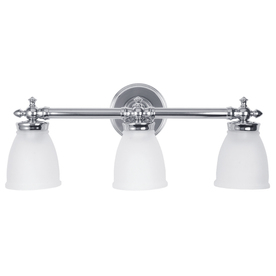 So I'm going to have to patch those holes and paint.
I'm also concerned that the globes from this fixture are longer than the ones from the old one
and that they may overlap the mirror, which I don't want.
In addition, upon further research, this fixture did not get good reviews...
most of them said it rusted within six months....that will not work for me.
So....on my to do list for this week....
Patch and paint holes above mirror
Look for new light fixtures
Order frame for mirror
Purchase new shower curtain rod
Here is a picture with the type of frame I am planning to order.
Notice how the globes of the fixture hang over the frame.
I don't think I want that look...although I may not have a choice
unless I go with the Hollywood lighting, which I don't like.
My soap dispensers got here...love them!
I am getting matching jars at the Hobby Lobby to use as a toothbrush holder.
I decided to wait until the shower curtain arrives
to shop for rugs and towels because I want to match the shade of navy blue.
The shower curtain should be here in two weeks!
My number one priority right now is to get a new shower curtain rod
because we are ALL showering my bathroom until I get the new rod and mount it.
The old one was mounted on the walls and was not a tension rod, but it was gold.
I want another one that mounts on the wall because a tension rod plus eight kids
equals the shower curtain rod getting pulled down weekly.
I am happy with my progress this week!
So happy to have the painting done!