I was hoping after last year's disaster of a sale Lilly Pulitzer would have been prepared for this year.
Not so.
I tried getting on their site at 8:00am and was kicked off numerous times.
The few times I was able to get something in my tote to purchase,
I got kicked off the site again and the items were sold out by the time I got on again.
By late afternoon, the site was running well, but the merchandise had been
very picked over with limited sizes.
I learned from last year that if you see something you can't live without...
buy it full price.
If you are interested in seeing what is left, go
here
There is quite a bit of stock left, just none of the things I had my eye on.
So I will focus on Lilly's fall collection and here is what I can't live without...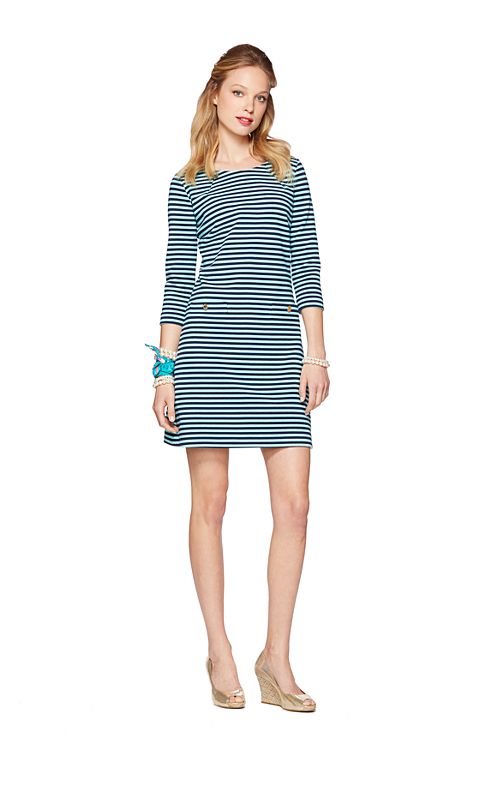 This is the
Charlene
dress by Lilly Pulitzer and it is FAR cuter in person than on the web.
I tried it on while in Kansas and it is a navy and mint green stripe in a heavyweight, stretchy knit.
It is SUPER comfortable and will look great with my Tory navy patent Caroline flats.
For someone who has been wearing Lilly Pulitzer for 25 or more years, it's frustrating that the loyal customers are getting edged out of purchasing at the sale.
In my opinion, if the site is down for some people, it should be down for ALL shoppers.
Clearly the site was working for some people because everything sold out before I could get on!
Eventually Lilly Pulitzer will not be as outrageously popular as it is right now, and maybe then I will have a chance to catch some things that I want on sale!
Did you have any luck ordering from the Lilly sale?